eFOLDi Explorer
Living life to the max - John from Kidderminster enjoys total freedom and independence thanks to his folding mobility scooter.
John, from Kidderminster in the West Midlands first injured his back as a small child, then again more significantly at the age of 26, and several more times since then. This has resulted in torn muscles, severe damage to his lumbar discs L3-L4-L5 and persistent back pain. John, who is in his early 60's, also suffers from arthritis and chronic knee pain, which makes it difficult for him to walk short distances – even with the aid of a walking stick. Despite these challenges, John can continue living an independent life with the full freedom to travel, thanks to his Efoldi mobility scooter.
John acquired his Efoldi scooter just under 5 years ago. John is actually hugely proud of being one of the very first 'early adopters' of the original Efoldi scooter, launched back in 2016. He continues to use his scooter on a daily basis, a real testament to its durability and the quality of its design.
"My Efoldi allows me the freedom and independence to travel"
When he first tried out his Efoldi scooter he was surprised just how lightweight and easy to fold it was, compared to many scooters he had used before. John says, "Being ultra-portable, my Efoldi allows me the freedom and independence to travel all around the UK, visit friends and family and go around most shops with ease – without the need for any assistance." John recently took his family on holiday to Rhyl in North Wales along with his scooter. John simply folded up his Efoldi scooter like a cabin-sized suitcase so it could be stored easily in the boot of his car. John commented, "space is always limited even in a big car or MPV like mine, especially with three passengers and their luggage on board. With many other scooters you would lose quite a bit of internal space due to their size, meaning you couldn't often accommodate as many passengers. That's not the case with my Efoldi, as it takes up so little space in the boot"
When seeing friends and family, John often part folds his Efoldi and uses it like a chair, which means John can easily visit restaurants and cafes without having to worry about parking or storing his scooter somewhere. John notes, "It means my scooter is not in anyone's way, and the height of the seat is just the right height for most tables so my scooter doubles as a restaurant chair. Restaurant staff are often quite amazed and comment at how compact my Efoldi is."
"Reliability is key"
Due to its advanced lithium battery technology, John's Efoldi scooter also has quite a considerable range of 14 miles. His previous small scooters could not be relied upon and quite often let John down, usually on his way home, either because of inherent issues with the lead-acid battery and limited capacity, or sudden battery failure on two occasions - leaving him stranded and anxious he may not even get home. John says, "My Efoldi is the only scooter I've owned or had use of over the years, that I can rely upon to actually 'go the distance' as stated in the product documentation and marketing materials. Reliability is key, and I always feel confident that my Efoldi won't let me down, and that reassurance is hugely important."
"I really don't know what I would do without my Efoldi"
Before deciding to purchase his Efoldi scooter, John had been fortunate to gain a fair bit of experience with various types of mobility scooter. This included both 3-wheel and 4-wheel versions, as well as some powered wheelchairs. Whilst many of the 4-wheel scooters offered a comfortable, stable ride, they suffered from reduced levels of manoeuvrability, meaning they couldn't easily handle tight, confined spaces, common in many retail settings and town centres. Whilst easier to use, the 3-wheeled scooters were often less stable due to their high-centre of gravity. Compared to his Efoldi, John says, "the other types of scooters were by far inferior. With my Efoldi scooter, I can easily manage busy shopping malls and tricky pavements without all the hassles associated with limited manoeuvrability or worry about the stability of my Efoldi, given its low centre of gravity."
John continues, "My Efoldi is a road-legal, 8 miles per hour max', Class 3 scooter, but it is actually smaller, lighter (at 19kg including battery) and more manoeuvrable than many compact, 4 miles per hour max', Class 2 scooters. For a scooter user, good manoeuvrability is crucial so you can get around obstacles and negotiate the more challenging pedestrian walkways. It gives you complete freedom to go almost anywhere you want. I really don't know what I would do without my Efoldi"
"I would, without hesitation, recommend Efoldi to anyone"
When asked how he would describe his Efoldi scooter, John commented, "Both - amazing and indispensable. I would, without hesitation, recommend Efoldi to anyone looking for a portable, lightweight mobility scooter. I genuinely don't see any downsides to having an Efoldi." John continues, "Their aftersales service is also excellent, and the Efoldi team are very responsive when you have any queries about service or maintenance. This gives me total peace of mind because I know that support is always there if I ever need it"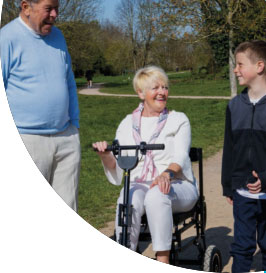 starstarstarstarstar
Rated 4.4 Customer Reviews
See which eFOLDi best
suits your needs...
Arrange a FREE home demonstration
and we'll come to you...