eFOLDi Explorer
Changing lives with eFOLDi: Alan Mendelson, London
Alan Mendelson, 57, lives in an apartment block in London. He lost strength and overall mobility in his legs due to DVT (Deep Vein Thrombosis) after a back operation. Alan also has sciatica, which can be extremely painful. And while he can move around, he cannot walk far or for extended periods. Fortunately, though, he can enjoy total independence thanks to his Efoldi scooter.
Alan purchased his Efoldi Explorer three years ago. When he first tried out the scooter he was amazed at just how lightweight and compact it is compared to his previous traditional scooter, which was much larger. Whilst compact, it's still robust enough to handle most terrain —meaning he can access places that he couldn't before. And because his Efoldi folds up like a cabin-sized suitcase to be carried or wheeled along, it enables Alan to easily access public transport in his local area.
'A sense of freedom'
"I have such a sense of freedom with my Efoldi. I live in London and don't own a car. This means I don't have to worry about parking or traffic, as well as any fuel or insurance costs. My Efoldi is very easy to operate on public transport. I was one of the first Efoldi users to receive certification from Transport for London, and I haven't looked back since!
The Efoldi is so quick to manoeuvre when compared to other mobility scooters. I just get straight on the bus, tube, or train, and I'm sitting in the disabled seat within seconds. I don't even have to fully fold the scooter up as it's so compact it tucks right out of the way. At home my Efoldi doubles as a useful piece of furniture. I drape a throw over it and visitors just assume it's a chair".
'It's changed my life completely!'
"I made the mistake many people do with mobility scooters.  I invested in a big, heavy model to begin with because I wanted to be higher up. While traditional scooters may come with additional seat padding, the new sense of freedom I now have more than compensates for the slimline Efoldi design. It's so agile —it's changed my life completely!
I can finally relax because getting around is so easy. And it's such a relief not having to worry about waiting to be recovered if it breaks down as I did with my old scooter. I can access small independent shops with narrow aisles, as well as little cafes where I often charge the battery while enjoying a cup of coffee. No one has ever refused to let me charge my battery before, but I carry a spare one just in case—particularly on long days out.
It's equally stress free to get around the big shopping centres as well. I can easily access the lifts and also use the battery charging points while I'm there".
'I'm able to go to places that I couldn't before'
"Everything's just so much easier now. If the weather's good, for example, I can get on a bus or train and be in Brighton in no time! At 17kg, the Efoldi is lighter than all other road-legal scooters and stays neatly in one piece when you fold it. This means you don't have to disassemble it for storage purposes. It takes seconds to fold up like a small suitcase so I can easily carry it on a train or bus. And while I've not personally flown with my Efoldi, I know that other users say it's easy.
The Efoldi can go anywhere a bike can and even worked well when I lived in a hilly area. My scooter is road legal and also operates well on uneven surfaces, like grass and gravel. I'm able to go to places that I couldn't before. I enjoy spending time around the River Lea at Hackney Marshes in particular. I used to avoid canal tow-paths  as I was worried about the stressful and expensive recovery process with the larger, traditional scooters. Now I'm able to enjoy nature again!".
'I'm just grateful I've got it'
"Fortunately, I've not experienced any problems with my Efoldi when I've been out and about. But now I feel relaxed in the knowledge that all I'd need to do is fold my scooter up and wheel it along to the nearest bus stop like a suitcase. Alternatively, I could call a taxi and put my Efoldi in the boot. I can even fold it into a chair while I wait. If I happen to get a puncture, it can be quickly and cheaply fixed by asking the taxi driver to call into a bicycle repair shop. This has taken the worry out of my travels and given me my freedom back—I'm just grateful I've got it!".
'I'd never go back to a traditional mobility scooter'
"The Efoldi has been a life changer for me. I'd never go back to a traditional mobility scooter, since even getting in and out of my flat became a somewhat complicated operation. I'd recommend the Efoldi to anyone who has feeling in their legs and can walk a few steps, as well as having the reflexes to operate the brakes when necessary. It doesn't look like a typical mobility aid and I get a lot of compliments about my Efoldi when I'm out and about. In fact, it's a cost-effective, hassle-free, and environmentally friendly way for everyone to get around".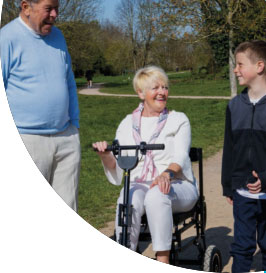 starstarstarstarstar
Rated 4.4 Customer Reviews
See which eFOLDi best
suits your needs...
Arrange a FREE home demonstration
and we'll come to you...