eFOLDi Power Chair
Helen Dolphin, MBE Writes about her recent exploits visiting the Lost gardens Of heligan in cornwall, whilst using her powered wheelchair.
Helen Dolphin, MBE, is a committed campaigner on improving transport for disabled people. After becoming a quadruple amputee due to contracting meningitis in her early twenties, Helen trained as a journalist and worked for ITV Anglia News as a news reporter. Helen now works as an independent mobility specialist, advising government, public sector, commercial and professional bodies on how to improve accessibility for disabled users.
Like many people this year, Helen and her family chose to holiday in the UK due to the complexity of Covid-19 travel restrictions in place. As a regular wheelchair user herself, Helen understands the unique challenges wheelchair users face when traveling and visiting new places. Levels of wheelchair accessibility can very often vary quite considerably and can make or break a family day out or holiday.
At the end of August, Helen and her family set out on a trip to Cornwall where they had planned to stay in a self-catering cottage. During their stay in Cornwall, Helen and her family decided to visit the Lost Gardens of Heligan, near to Pentewan and Mevagissey and just south of St Austell. Here, Helen details her recent experience of her visit to the Lost Gardens of Heligan, whilst using her Efoldi powered wheelchair, which can fold up and be stored easily in a car boot.
"We were exceptionally lucky with the weather during our time in Cornwall and had a whole week of sunshine. I was also delighted to find out that a number of the local beaches supplied beach wheelchairs, so I was able to get easily onto the beach and swim in the sea. Tempting as it was to spend every day on the beach, we thought we would try and venture out and take a trip to the Lost Gardens of Heligan which was not too far from where we were staying.
"Heligan proclaims itself as being one of the most mysterious estates in England. At the end of the 19th century, Heligan's gardens were in their prime but only a few years later, bramble and ivy we're already covering the gardens because many of the workforce had to leave and fight in the trenches in the First World War. Many sadly never returned and the gardens remained lost for many years, until they were reawakened in 1990 to become Europe's largest garden restoration project. Nowadays, there are more than 200 acres of beautiful wildlife and plants to explore, so we were really looking forward to seeing what Heligan had to offer.
"You never quite know when visiting gardens if they're going to be accessible for your wheelchair or whether you're going to be limited as to where you can go. Fortunately, there was some accessibility information on the website which identified that some of the paths were quite steep but it seemed that there would still be plenty of places I would be able to get to on my wheelchair.
"On arrival at the gardens, we were able to park close to the main entrance in an accessible parking bay with a compacted gravel surface, but this proved to be no problem for my Efoldi Power Chair. We then headed off to the gardens. As my son is four and had plenty of energy to burn off, we took him first to the Jungle area. The Jungle contains many tropical plants and requires you to walk along raised boardwalks. Here you can see giant rhubarb, banana plantations and avenues of palms. My Efoldi power chair managed the board walks easily, despite some of them being pretty steep in places. I have to say, it is amazing to see a jungle type environment in the UK. At one point, it is worth noting, there is a rope bridge to cross but I left my husband and son at the bridge and went an alternative route along some more board walks to meet up with them the other side. I'd learnt afterwards this route is not recommended for wheelchair users but as long as you avoid the rope bridge, and your chair can cope with steep inclines, you should be fine.
"After looking around the Jungle, we headed to the Victorian Productive Gardens. These gardens are intensively cultivated throughout the year and produce over 300 different varieties of heritage fruit vegetable salad and herbs. There is also a walled garden, kitchen garden and melon yard and if you're very lucky, you may even see pineapples growing. These gardens were really easy to get around in my power chair as the paths were nice and wide. By the time I'd walked around the jungle and the gardens I had probably covered some considerable distance, and whilst my chair has an 8-mile range, I always carry a spare battery on my chair which means you never have to worry about running out of power.
"Once we'd finished our tour of the gardens we headed back to the car where my husband was able to stow the Efoldi easily into the boot of our car before setting off back to our cottage. I would really recommend these gardens for anyone visiting Cornwall, as not only are they an amazing attraction, but they have also really considered accessibility. This was my first holiday where I've been able to take a power chair with me as it can fold and fit easily into my car boot with all my luggage. And, it was wonderful to have the same freedom and independence on holiday, that I also get to enjoy whilst at home."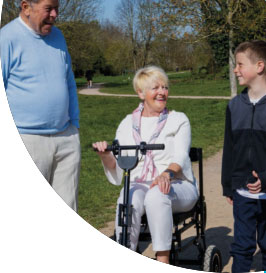 starstarstarstarstar
Rated 4.4 Customer Reviews
See which eFOLDi best
suits your needs...
Arrange a FREE home demonstration
and we'll come to you...