eFOLDi Lite
Roger enjoys living it up in Essex with the help of his eFOLDi Lite travel scooter.
Roger from Romford in Essex enjoys total independence thanks to his lightweight folding scooter from eFOLDi. Roger suffers with acute arthritis in his ankle which means he finds standing for long periods quite painful. He also finds walking long distances a challenge as it can cause a significant amount of discomfort in his lower leg. Despite this, Roger continues to remain active, regularly getting out and about to meet friends and family, visit the shops, go on day trips and go away on holiday with his wife and other family members.
Roger purchased his eFOLDi Lite scooter back in the summer of 2020, at the height of the COVID-19 pandemic – but hasn't looked back since. When he first tried out the scooter he was amazed at just how compact and manoeuvrable it was, compared to his previous 4-wheeled scooter.
"My eFOLDi Lite folds up like a cabin-sized suitcase, in just a few seconds"
"My eFOLDi Lite folds up like a cabin-sized suitcase in just a few seconds so it can be neatly stored away either in the house or when travelling by car, train, bus or coach. When folding or unfolding my scooter, I don't need to bend down too low or kneel on the floor which is a real help. It weighs only 15kg, without the battery, so I can fold it up easily and put it straight into the boot of my car. It takes up very little room and we still have plenty of space for our luggage. It's also 'air-safe', so you can take it with you on a plane, something I hope to do in the very near future. My Lite scooter really does give me the complete freedom to travel, see my grandchildren, enjoy day trips to National Trust sites and I regularly use it to go to church and the local shopping centre nearby. And, with a range of up to 10 miles, my eFOLDi scooter keeps going all day – it never lets me down when I'm out and about"
"It's just a wonderful piece of kit. I really couldn't be without it"
When asked how he would describe his eFOLDi scooter, Roger commented, "it's very easy to use, and exceptionally portable so it helps me remain independent – it's just a wonderful piece of kit. I really couldn't be without it. I am always recommending it to people I meet. When I am transferring the scooter in and out of the car, I very often get comments from people who can't believe just how compact and lightweight the scooter is – compared to the more traditional types of scooters. It's simple to fold and unfold, very easy to use and surprisingly manoeuvrable. I can also get on and off my scooter very easily because the low foot plate means I can mount or dismount the scooter, without any hassle or discomfort."
"The eFOLDi team are very easy to deal with, and are always very helpful"
"I've had my scooter for almost two years, and I've always found the aftersales service from eFOLDi excellent. Should your scooter need any servicing or maintenance at all, eFOLDi offer a useful "collection and delivery service" for owners right across the UK. But, as my wife and I live fairly close to their headquarters in Surrey, we prefer their same-day service option which means we can drop-off and collect the same day. The eFOLDi team are very easy to deal with, and are always very helpful if support is ever needed."
The Lite from eFOLDi is one of the world's lightest, most compact mobility scooters. Having successfully scooped Naidex's 'Innovation of the Year' award in 2021, the Lite is proving to be life-changing for users, particularly those keen to travel. The Lite's revolutionary design features airline-friendly lithium battery technology, and a unique lightweight magnesium-alloy chassis making it ultra-portable yet extremely durable. With a carrying capacity of 120kg, the Lite scooter comes with an integrated 4-point floating seat suspension system and pneumatic tyres which also ensure a smooth, comfortable ride.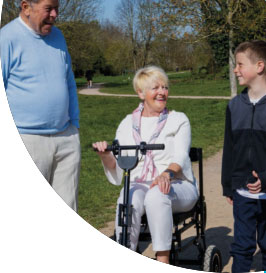 starstarstarstarstar
Rated 4.4 Customer Reviews
See which eFOLDi best
suits your needs...
Arrange a FREE home demonstration
and we'll come to you...