March 2023
Travelling with a mobility scooter: Tips for navigating the London transport network
As one of the UK's top tourist destinations, London offers visitors with limited mobility a huge choice of attractions and sites to explore. But just how easy is it to navigate the capital as a mobility equipment user and what help is available?
To find out more, Tim Ross, National Sales Manager at eFOLDi spent the day with Maggie, a scooter user from North London, travelling right across the London transport network to gain some valuable insights on levels of accessibility. For the purposes of the exercise, Maggie would be travelling with her eFOLDi Explorer, a folding class 3 road scooter and Tim would be testing out the Lite, a folding 4 mph pavement scooter. The journey, stretched from East to West, as well as from North to South, and incorporated overground trains, tube lines, the Docklands Light Railway (DLR), the new Elizabeth Line, buses and even a river boat trip down the Thames.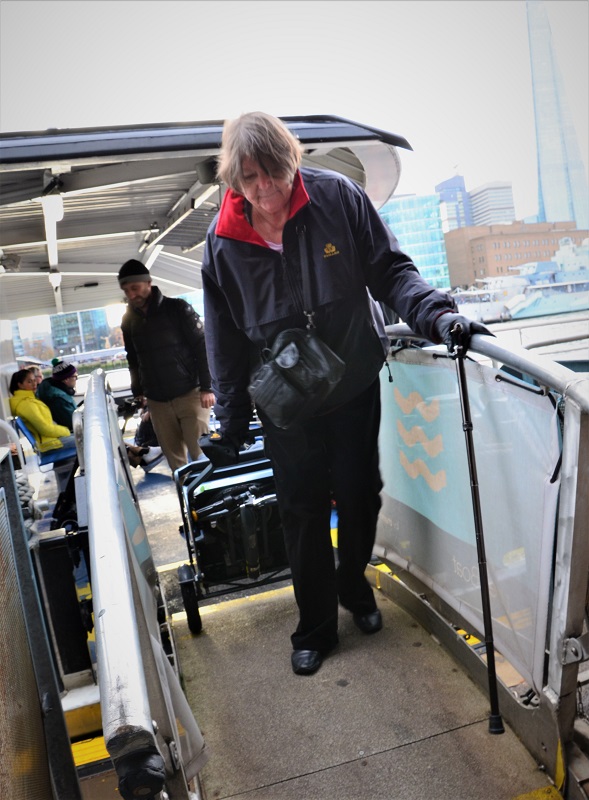 With the days getting longer as spring approaches, many people will be starting to think about getting out and firming up their travel plans for 2023 and beyond. Mobility scooter users will be looking to negotiate various forms of public transport to travel to and from their intended destinations. But just what challenges await in London, and how did the eFOLDi scooters perform?

While there have been significant improvements in the accessibility of London's vast transport network, including upgrades to stations and vehicles as well as the opening of the long-awaited Elizabeth Line, most commentators suggest that more still needs to be done.
Maggie previously worked in transport planning, then in logistics for the United Nations and now has several disability-related advisory roles. She suffers from COPD, Spinal Stenosis and has a weakness in both her knees but she frequently uses her eFOLDi Explorer scooter for work purposes, as well as for leisure and foreign travel. Having travelled the world with her different jobs, she is no shrinking violet when it comes to getting around her hometown.

The conditions for the journey across the capital couldn't have been more difficult, with the trip going ahead during a national rail strike and in a busy Christmas shopping season. Our plucky travellers ploughed on, but they soon realised it was certainly going to be a good test of their navigation skills and their scooters.
First stop was Hampstead Heath overground rail station and a staff member was on duty to support any travellers needing additional help. A positive start, and the lift between station entrance and platform was also in operation, so they could easily get access to the platform without dismounting. It's worth noting, there are occasions when lifts will not be working, but eFOLDi users do have the added advantage of being able to fold down their scooters and carry them or bump them up or down steps and escalators. Maggie noted, "This feature offers users more flexibility and means they can be less reliant on station staff, so they often feel they have a greater level of independence." As the train arrived, there was no level-access, but ramps can always be provided; our travellers chose to do without in this instance. TfL do also actively promote a "turn-up-and-go service" on all overground, underground and Elizabeth lines, so stations should be able to accommodate disabled users on the go.
Having got on the train, whilst it was easy to navigate inside, some of the central grabrails did present a challenge. Both the Explorer and Lite models, being 3 wheelers, do however benefit from being more compact and manoeuvrable, and this proved to be very useful throughout the entire journey. Not just when negotiating stations, trains, and any connecting walkways but also when out shopping in the busy public areas. Maggie commented, "I'm lucky I have my eFOLDi, it's so easy to use, and its compact design and three wheels make getting around London far easier for me."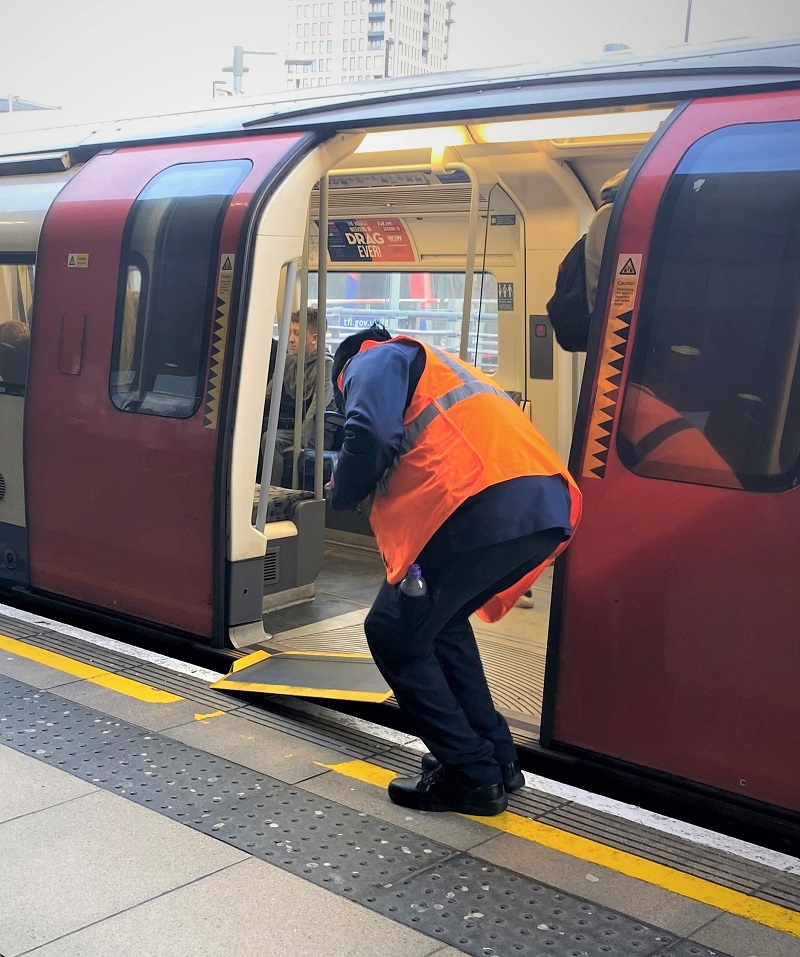 Next stop, Stratford, and a trip on the Jubilee underground line to Westminster. Again, fortunately, lifts were in operation so you could get to the platform without much fuss. The lifts were however not that wide and so they could have proved a real challenge for some scooter users to negotiate, as it required some solid reversing skills to get out. Worth noting, many stations other than Stratford do however offer drive-through lifts, which avoid the need to reverse in or out. The Explorer and Lite and handled the lifts well though, being very easy to use and quite nimble. Larger, bulkier four-wheeled scooters may have struggled.
Of particular interest to our travellers was a new, small bridging device being trialled on the Jubilee line. Designed by a TfL staff-member and nicknamed by Maggie the "Gap-filler", it's lighter, more compact and far less cumbersome than the conventional wheelchair ramps in use. It was also quicker and easier to deploy, and from a user perspective, it seemed fairly easy to use and very safe.
The only issue whilst on the Jubilee line train, was the centre stanchion which did make it difficult for scooter users to navigate into and out of the allocated wheelchair spaces. Being quite agile, both scooters were able to negotiate the obstacle, but others could have struggled, especially in a busy carriage. When disembarking at Westminster station, there were three consecutive lifts to exit the station which did take some time. Worth remembering – it's always helpful to factor in a little extra time to your schedule when having to manage so many lifts in a single station!
Next, was the river boat experience down the Thames, which promised some great views along a long stretch of the river. The ticket office staff at Tower Pier weren't quite sure if mobility scooters were permitted or not so they did have to check, because of a misunderstanding around e-scooters – indicating a need for additional staff training. Due to heavy demand, passengers did have to wait a little while for the next boat, and when it did arrive, scooter and wheelchair users were not permitted to drive straight on. Undeterred, Maggie and Tim quickly folded up their scooters and pulled them along over the boat gangway just like a suitcase on wheels. Luckily, even when folded, both the Lite and Explorer can be freewheeled, and even wheeled sideways on small castors so they are surprisingly manoeuvrable. Once aboard, the boat experience was a refreshing change to the tube and overground trains, despite the cold weather. Boats generally depart every 10-20 minutes from key London piers, and stop at many of the major landmarks, such as the Houses of Parliament, the London Eye and the Tower of London. Not all boats are step free, however, and some don't have accessible toilets, so it's always advisable to check in advance.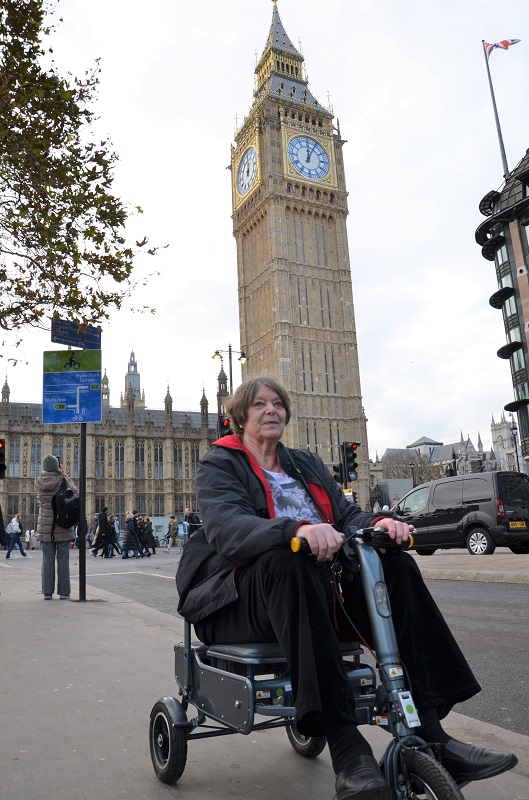 After a light lunch, our travellers carried on their journey, catching the DLR train to Canary Wharf, then a trip on the brand-new Elizabeth Line. Opened in May 2022, the Elizabeth line was built to provide step-free access to help connect people to more of London. All stations are step-free, from street to platform. There is also level-access from platform to train at many of the stations in central London locations, so no boarding ramp is needed - but ramps are available at all the other stations outside of central London. From a scooter users' perspective, the travel experience on the Elizabeth Line was certainly smooth and a lot easier, compared to other rail lines. The stations are ultra-modern and appear to be more spacious, making them seem less daunting for scooter users.
The final task was to test out the London bus network. Worth noting, only scooters and wheelchairs of a limited length and turning circle are permitted to travel on buses in London, or indeed, anywhere else in UK. Class 3 scooters, like the Explorer, are not permitted to travel, if unfolded – irrespective of their size. Because of this, our travellers had to fold up their scooters to travel on the bus network. The buses were also extremely busy, both on the buses themselves and whilst waiting at bus stops. That said, it was peak afternoon rush hour, so many commuters and shoppers were out and about making last minute purchases before the Christmas holiday.
Key takeaways:
Accessibility in London has improved a great deal right across the network, particularly on the new lines and it is continuing to improve, day by day, as new routes and initiatives are launched. So, while some obstacles do still remain, with the right equipment and some forward planning, scooter users should not be put off – because, in the vast majority of cases, they can travel relatively freely throughout the London region, using the wide range of transport options on offer. Disabled travellers in London also benefit from TFL's "Turn-up-and-go" service for the London Underground, London Overground, DLR and Elizabeth lines which has incredible advantages, compared to other cities.

All TfL stations are staffed so you can always get assistance - should you need it, which is the same for overground, DLR and tube lines, and staff will ring ahead to your next station so you are met with a ramp.

The eFOLDi Explorer and Lite scooters are well suited to travellers wishing to explore the main sights in the London region and they are more than capable for use on a range of different transport options, including overground trains, underground lines, river boats, buses and taxis (black cabs). Being extremely manoeuvrable and easy to use, ensures users can negotiate platforms, lifts, trains and walkways particularly well - even in the tightest of spots.

Should eFOLDi Explorer and Lite owners experience any unexpected challenges along their journey, they also have the added benefit of being able to quickly fold and store their scooter. This, combined with their ease of use, high ground clearance and nimble handling, means Lite and Explorer owners can retain a high level of independence and freedom when travelling. Plus, with 10-mile and 14-mile ranges, both scooters ensure users can travel, without any worry. Both scooters use advanced lithium battery technology to facilitate quick charging, with typical charging times of just 4-6 hours.
Hints & tips:
Check out the TfL website which provides a huge amount of transport accessibility information and its very good "Journey planner" tool enables users to find a route that suits their mobility requirements. TFL also produce a range of handy accessibility guides and maps.

If you have a smartphone, download the TfLGo app for essential help and assistance on the 'move'. Use its step-free mode for planning accessible journeys and it also includes information on toilet locations, platform access and live lift status. You can see a live map of your route, it provides live bus, train and tram times and it even indicates when the quieter times are to travel. Live updates are also available for all bus, Tube, London Overground, DLR, Elizabeth line and tram lines.

TFL offers a "Turn-up-and-Go" service on the London Underground, London Overground, DLR and Elizabeth line. Everyone is welcome to use the service and it is very popular with travellers who have sensory or mobility impairments. If for any reason TFL are not able to offer you physical Turn-up-and-go assistance, or if lifts are out of service, they will arrange an accessible taxi to take you to your destination station or the nearest accessible station within the Greater London area.

TFL offers a Travel Mentor Service to give disabled travellers guidance and support to help them get around London. They offer telephone and email advice to help plan an accessible route. More importantly, they can also provide a mentor to accompany you on your first few practice journeys to help you learn how to travel the network, gaining confidence to become an independent traveller. They can also assist you virtually, using apps available on most smartphones.

Consider investing in a Concessionary Railcard which allows 1/3 off most standard and first-class rail fares for any traveller with a disability. Railcards can also be linked to a London Oyster card for 1/3 off Oyster pay-as-you-go single fares.

Many class 3 or class 2 scooters will not be permitted on buses, unfolded. This is because of restrictions concerning scooter dimensions and their turning circle.

If you do need to take a taxi, it's worth noting that all of the iconic black cabs are wheelchair accessible, thanks to a ramp that folds out from the floor. Drivers should also be ready and willing to provide extra assistance should anyone need it. Again, eFOLDi owners do have the option of also being able to fold and store their scooter when travelling via black cab or any private hire taxis.

Where possible, try to avoid busy rush-hour times, and consider taking a friend or buddy along if in any doubt.