eFOLDi Explorer
Danielle enjoys 'La Dolce Vita' in stunning Venice with the help of her eFOLDi scooter
Danielle, 43 from Colchester described her recent trip to the beautiful city of Venice, Italy as "truly incredible" but she wouldn't have been able to enjoy this unique travel experience without her eFOLDi scooter. As a popular UNESCO world heritage site, Venice is well known as an impressive architectural masterpiece. Many of its monuments and works of art are regarded as near incomparable in terms of their beauty and exquisite quality. Danielle loves nothing more than to travel and visit amazing destinations overseas, and Venice has always been one of those places that she most wanted to visit.
Following an accident in her mid-teens, Danielle now suffers from fibromyalgia and hyper mobility spectrum disorder, so she finds walking long distances as well as standing for extended periods a real struggle. These conditions cause her chronic pain which can often prove to be overwhelming at times. Danielle also suffers from asthma and high blood pressure but despite these challenges, Danielle is determined to remain independent and get out and about to see the world, because travel is a real passion. Here, Danielle explains about her recent experiences with her Explorer eFOLDi scooter and how she continues to enjoy the full freedom to travel with both her family and friends.
"It only takes a few seconds to fold or unfold, and weighs only 17kg"
Danielle had wanted a lightweight scooter that was compact and portable enough, to enable her to travel easily both in the UK and overseas. Because she finds walking difficult, travelling can be challenging, both physically and emotionally, but having her eFOLDi makes a massive difference. Danielle commented, "I really needed a scooter that would enable me to get out and about, something versatile that I could travel with, whether that's by plane, train or car. Because my eFOLDi folds up so neatly and quickly, it can easily be stowed away in the hold of a plane, in the boot of my car or in the luggage rack on a train. It only takes a few seconds to fold or unfold, and weighs only 17kg, without the battery."
"I was even able to drive my scooter right up to the plane door. I really couldn't have managed without my scooter"
"When me and my husband travelled to Venice, I used my scooter to get around the airport, to check-in for my flight, to get a bite to eat and check out the shops in the main shopping area. As we travelled light and only took cabin luggage, I could drive my scooter whilst pulling along my baggage at the same time, which was a great help. When our call came for our British Airways flight, I was even able to drive my scooter right up to the plane door. I really couldn't have managed without my scooter on the day, I would have been in too much pain otherwise from all the walking and standing around. The cabin staff made sure my scooter went in the hold, so I could collect it when we landed in Italy. My eFOLDi uses a removable lithium-ion battery so I can take the battery out and keep it with me in the cabin. This means my scooter is fully airline compliant."
The region of Venice and Giudecca consists of 118 islands which are connected by no less than 435 bridges and thanks to a network of ramps and public water buses the city is marketed as being 70% accessible to wheelchairs. The local government in Venice as well as local businesses in the city have worked hard to help improve levels of accessibility in recent years. The vast majority of museums in Venice are now all classified as accessible, which is impressive given that many of those museums are located in buildings constructed many hundreds of years ago.
That said, there are still many bridges and walkways to negotiate, as Danielle noted, "you can end up walking for miles to see all the sites and I just couldn't have done that without my scooter. The water buses can also be used if you need assistance, and they didn't mind taking my scooter on board. Some ramps did require a little planning here and there, to ensure I had enough of a run up and that there were no pedestrians obstructing the way. But, other than that, my scooter coped really very well. It could also fit down all the narrow alleyways, and it's very easy to manoeuvre, although it's important to maintain your balance on any uneven surfaces. One other thing that really helped me on my visit was having my scooter backpack which provided me with some useful storage whilst we were out exploring. It fits nicely on the back of my scooter, and I can travel with a coat, a blanket, phone charger and some snacks if I needed them whilst out and about. All in all, I have to say, Venice is beautiful and such a fantastic city to visit. My husband and I had a great time – it really is such a stunning destination. I would certainly recommend Venice to any other scooter users. With a little bit of planning and a companion to support you, should you need it, anything is possible.
"My eFOLDi is an absolute lifesaver – it makes life so easy for me"
Danielle uses her scooter for a variety of different purposes, in addition to foreign travel and holidays. With two dogs, and a busy family life, Danielle is very often found walking her dogs near to her home. Danielle commented, "I give the dogs a good run with my scooter as they try to keep up with me, and my scooter is well suited to going off-road as the paths and terrain can be challenging in places where we live. We often go out in our 4x4 and take the dogs with us to explore the cliff walks at Seven Sisters in the South Downs National Park. I simply fold up my scooter, store it away in the boot and away we go. I also use it to get around the local shops, see friends, attend hospital appointments, go to restaurants and it even doubles as a chair, if I need it for eating out or just resting when I'm on the move. My eFOLDi is an absolute lifesaver – it makes life so easy for me."
Since travelling to Venice, Danielle has also visited the island of Sicily and is now planning a trip to Lanzarote this summer. Danielle commented, "The resort in Lanzarote has a lovely long seafront promenade, so my scooter will really come in handy there. I can enjoy the amazing views and take in the sea air, without any worry."
"It was just perfect for my needs, plus it looks so different to your traditional type of scooter"
Prior to purchasing her eFOLDi, Danielle had spent quite some time researching the various types of scooters available. Initially, she had chosen to purchase a more traditional style of boot scooter, but she found this to be heavy and difficult to assemble and disassemble all the time. Danielle noted, "whilst it separated into the various components, some of those parts were still quite heavy and the scooter was not very easy to use. That was when I decided to speak to eFOLDi, and we arranged a home demonstration. The sales consultant even let me test it out on some of the dirt tracks near where I live, just to see if it was suitable for dog walking. As soon as I tried it, I knew I was going to love it, it was just perfect for my needs, plus it looks so different to your traditional type of scooter"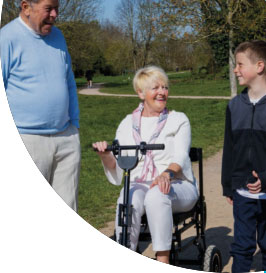 starstarstarstarstar
Rated 4.4 Customer Reviews
See which eFOLDi best
suits your needs...
Arrange a FREE home demonstration
and we'll come to you...