eFOLDi Explorer
Edi discovers some hidden gems on his Scandinavian adventure. Exploring Sweden by scooter - an experience for the senses.
Edi, 64, an eFOLDi user for more than 3 years, travels regularly to visit his daughter in Sweden, using a range of transport, including buses, trains and planes. Edi suffers with limited mobility, following a car accident in 2018, so he cannot walk far or for extended periods. Fortunately, he still retains his independence and is determined to remain active with the help of his portable, folding scooter. Here, Edi talks about his most recent trip to Stockholm and the picturesque city of Vasteras, which is located close to the shore of Lake Malaren, about 60 miles north of the capital.
Edi, would find it difficult, if near impossible, to travel independently, without his eFOLDi scooter, and would never have considered a trip to Sweden or flying anywhere else for that matter, without it. Edi noted, "My scooter is designed to be portable, and can be folded quickly to the size of a cabin-sized case for storage when travelling. This allows me to get about on a range of public transport, whether that's planes, trains, buses or cruise ships. For my trips to Sweden, I can ride my scooter right up to the plane door when flying from the UK. I can then just fold it up, and it gets stored away in the cargo hold – ready for when I land. It's so convenient flying with my scooter, plus I can attach my wheeled suitcase to the back which makes getting around the airport very easy. Likewise, on buses and trains, I can store it away easily as luggage when in transit. My scooter folds down in only a few seconds, and it's fairly lightweight so I can lift it on and off the bus or train myself. Having my eFOLDi scooter has given me back my independence, something I didn't really get from the previous scooters I owned."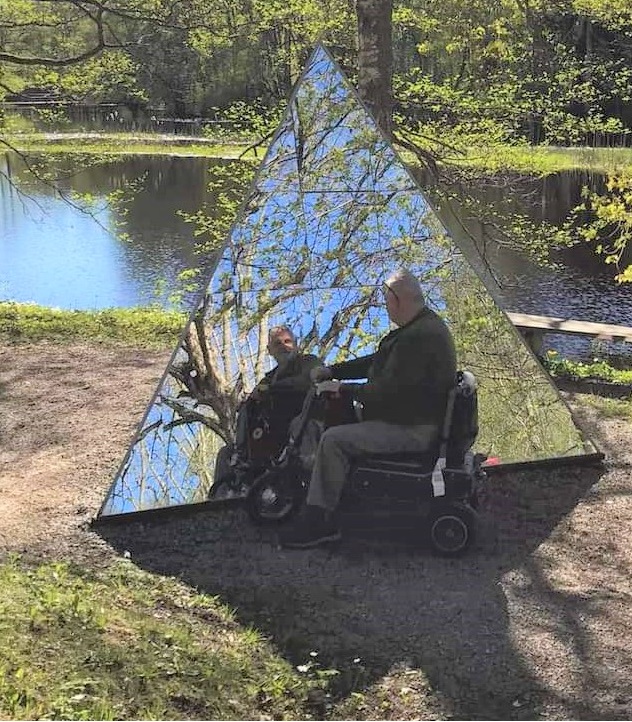 Like many Scandinavian countries, Sweden, is generally well adapted to the needs of people with mobility impairments. This makes travelling much less troublesome for mobility equipment users, like Edi. Sweden's own "Accessibility Database" solution known as "TD" locally, is a useful
online resource
that provides information for disabled travellers about the levels of accessibility right across Sweden. It offers detailed information about the physical accessibility of shops and restaurants, public buildings as well as outdoor areas and other tourist destinations.
"My scooter really gives me a lot of freedom and it allows me to be a lot more spontaneous"
When Edi arrives in Stockholm, he usually catches a train then gets a bus which drops him about half a mile from where his daughter lives, close to Vasteras. He then unfolds his scooter and drives right up to the house. Vasteras is one of Sweden's oldest cities and was first populated during the Nordic-Viking age so it has a fascinating historical background. It is also home to several stunning national parks with some spectacular scenery and hiking routes. Edi commented, "I often accompany my daughter on long walks around the local parks, which are incredibly beautiful. Because I travel around on my scooter which can drive up to 8mph, my daughter has decided to hire a 2-wheeled scooter just to keep up with me when we go out! I also use my scooter to visit the local towns, explore the museums, go shopping and try out the food in the local restaurants. My scooter really gives me a lot of freedom and it allows me to be a lot more spontaneous, because I don't feel restricted as to where I can or can't go."
"It's also a lot of fun to drive, and attracts quite a bit of attention"
Back in the UK, Edi also uses his scooter to go shopping, to visit restaurants, for days out with family and friends as well as staycation holidays. Edi commented, "My scooter is so manoeuvrable, it can get into quite tight spaces and is very easy to use. I can easily fold it up and put it in the boot of my car, so it comes with me everywhere. It's also a lot of fun to drive and it attracts quite a bit of attention when I am out and about. What's surprising is the number of people that come up to me to talk to me about my scooter. They often say that they haven't ever seen a scooter like it, and other people are just curious because they are looking for a scooter for a family member. It certainly doesn't look like your traditional mobility scooter, it's quite unique really and that's what makes it so attractive and appealing."
"It's so compact and portable, and I don't have to dismantle it to get it into my car"
Edi's eFOLDi scooter is not like any of the scooters he has owned previously either. Edi commented, "I've had two other scooters prior to my eFOLDi, but no other scooter comes close because it's a lot less heavy and very easy to travel with. It's so compact and portable, and I don't have to dismantle it to get it into my car. I just fold it up, pop it in the boot and go. I need something compact for travelling, and it's perfect for what I need. Because my scooter has an 8-mph top speed, it can also handle any steep hills and is road-legal so it's quite versatile for a range of different uses and terrain."
"With eFOLDi, it's really easy because they will come to you."
Edi had a home demonstration, prior to purchasing his eFOLDi Explorer scooter and even took one out for a test drive so he could see whether or not it would suit his needs. Edi noted, "You can see how it folds, and you can judge whether its suitable for your level of mobility. With eFOLDi, it's really very easy because they will come to you so you can have a demonstration in the comfort of your own home. I would always recommend getting some hands-on time when buying any mobility scooter to make sure it suits your needs. The after-sales service I receive from the team at eFOLDi is also excellent. They're always there should I need any support - even when I'm away travelling overseas. I would certainly recommend eFOLDi to anyone else that's looking for a portable mobility scooter. I couldn't travel as much as I do, without mine. It makes such a massive difference and gives me so much more freedom and independence."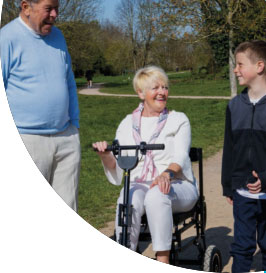 starstarstarstarstar
Rated 4.4 Customer Reviews
See which eFOLDi best
suits your needs...
Arrange a FREE home demonstration
and we'll come to you...