eFOLDi Power Chair
Helen Dolphin, MBE writes about her recent experiences of train travel with her eFOLDi Power Chair.
Whilst there have been significant improvements in the accessibility of Britain's rail network, a 2019 report by the Dept for Transport acknowledged much more still needed to be done. The report highlighted, two-thirds of passengers with disabilities experienced barriers to travel. Recognising these challenges, its Inclusive Transport Strategy committed to delivering several key initiatives with the aim of creating a fully inclusive transport network by 2030
Having recently acquired an eFOLDi Power Chair, I was keen to try it out on my first train journey since restrictions were lifted due to Covid-19. I'd never actually travelled on a train with a powered wheelchair before, mainly because I had not previously been able to get my other powered wheelchairs into my car. One of the main benefits of the eFOLDi power chair is that it's super-lightweight and folds down to cabin-luggage size, so it easily fits into my car boot.
As well as my powered chair experiencing its maiden voyage, I decided it might be nice to take my son, who is four, on his first train journey. For that reason, we'd decided to catch the train from Attleborough, which is my nearest station, to Great Yarmouth. As Attleborough is an unmanned station, I pre-booked my assistance with the train company before I got there. I did have to renew my Disabled Person's Railcard, but that also saves you and a companion a, third off the standard ticket price. The booking system has improved significantly, and you can complete everything online.
When I arrived at Attleborough station I noticed that there was only a temporary car park, due to building work. This meant lots of gravel to contend with, and large puddles as it was pouring with rain. Fortunately, my eFOLDi Power Chair managed the terrain with no problem. The station was step-free, and I drove up the slope to access the platform, where I then waited for my train.
When the train arrived, the conductor put the ramp down, and I drove straight up and onto the train. The eFOLDi powered wheelchair is quite a small chair so was nice and manoeuvrable. To get to Great Yarmouth I had to change in Norwich. As the train arrived into Norwich station, I was pleased to see someone waiting with a ramp. For my train to Yarmouth, the train had level-boarding so there was no need for a ramp which makes things so easy. On the train I also tested out the loo. Train toilets can be notoriously small, but my chair fitted perfectly, and there was enough space to move about.
Despite the heavy rain, when we arrived in Yarmouth, the trip itself had been relatively smooth, and hassle free. All the assistance worked brilliantly along the way, and my eFOLDi Power Chair made travelling by train, so easy.
All in all, I was pleasantly surprised and with foreign travel restrictions expected to ease further later in the year, I'm now looking forward to travelling by air with my eFOLDi Power Chair.
Hints & Tips
Get the best ticket price by buying in advance. Investigate if you qualify for a railcard which can save you 1/3 off rail travel www.railcard.co.uk


Book assistance to ensure you have all the help you need, via the National Freephone Passenger Assist Number 0800 022 3720, online with the train company directly or by visiting their website


Make sure your wheelchair will fit on the train. Most trains can accommodate wheelchairs that are 700mm wide by 1200mm long. However, there are a small number of older trains that can only carry wheelchairs that have a maximum width of 550mm.


If you use a mobility scooter, find out your train company's policy before you travel.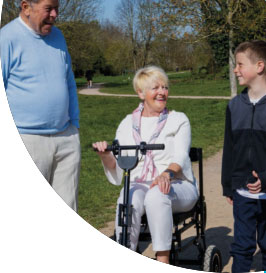 starstarstarstarstar
Rated 4.4 Customer Reviews
See which eFOLDi best
suits your needs...
Arrange a FREE home demonstration
and we'll come to you...