eFOLDi Explorer
Jet-setter Ross living the dream as he travels throughout North America with his ultra-portable, folding mobility scooter
Ross Perry, 68, has travelled extensively all-around Europe and internationally, getting around using anything from cruise ships and trains to short- and long-haul flights. Despite having mobility issues due to chronic arthritis in both his back and neck, Ross is determined to remain as active as possible and continues to explore new and exciting places using his portable, folding scooter. Here, Ross tells us about his latest experiences with his scooter whilst travelling across North America.
Ross, from Dartford in Kent, attributes his independence and unrestricted travel freedom to his lightweight, folding scooter. It allows him to get around easily on excursions whilst away on trips, and it's also compact and lightweight enough to accompany him, whether he travels by land, sea or air. Ross classes himself as a 'frequent traveller', and his recent trip to the USA and Canada, saw him travel more than 13,000 miles across the continent, and back to the UK. His journey comprised of numerous flights, including two transatlantic trips as well as an amazing cruise expedition to Alaska, America's wild frontier. Ross commented, "I'm a big fan of the USA and I'm currently only 3 states away from visiting all 50 states. I'm aiming to get up to 50, within the next few years."
Whilst away on his latest trip, Ross also visited the cosmopolitan city of Vancouver in Canada and the lively city of New Orleans in south of the US where he got to indulge in his love of 'Blues' bands. His trip began in the UK, where he travelled by plane to Alaska. He then boarded a cruise liner to Vancouver. From Vancouver, he then flew to New Orleans where he stayed for a number of days, before returning to the UK.
"Because my scooter is airline friendly, I can drive it right up to the cabin door"
Ross commented, "from the very start, my scooter allowed me to get around the airport, go through security, and visit the various shops, bars and restaurants in the departure lounges. It gives me total flexibility. When I do get to board my flight, because my scooter is airline friendly, I can drive it right up to the cabin door where it can then be loaded into the hold, ready for when we land. Some airlines even let me store my scooter in the overhead lockers on the plane, which is really, very handy. I would, however, always recommend travellers speak to their airline in advance to let them know if you have any mobility impairments."
"I was able to use my scooter to enjoy the sites and explore"
During his trip, Ross was lucky enough to visit a wide variety of attractions. Ross commented, "when we stopped off at some of the ports along the way to Vancouver, I was able to use my scooter to enjoy the sites and explore the local area. My scooter allows me to do everything I used to be able to do before I experienced mobility problems. It means I can visit the various shopping centres, tourist attractions and resorts along the way. Plus, wherever I go, people pay a huge amount of interest in my scooter, because it looks so unique. It's not like your typical mobility scooter, and it tends to get a lot of positive comments from people that I meet, so it's a real talking point."
Ross also noted, "when I am out on my scooter, I don't have to worry about it running out of power. That's a constant fear for many scooter users, but I never have any problems with my eFOLDi scooter. It's got a range of 14 miles, so it lasts me a good number of days before it needs charging. The scooter uses a lithium battery which is very efficient, it's also fairly lightweight and surprisingly small – not like those big, heavy lead-acid batteries. My scooter only takes a few hours to charge as well. It's very easy to use, and I can store away my scooter in a wardrobe or cupboard until I need it so that it doesn't get in anyone's way."
"I often say it's the 'Ferrari' of mobility scooters!"
As well as travel to the USA, Ross has made a number of trips to Europe, including Spain where he has a holiday home, and it allows him the flexibility to do what he wants. He has had his eFOLDi for more than 18 months, and travels with it most places. Ross also uses his scooter for family day trips, visiting the shops and for taking his dogs for a walk. Ross said, "because my scooter is also road-legal, it can reach quite a speed so I can give my dogs a really good exercise - they usually have to try and keep up with me! I often say it's the 'Ferrari' of mobility scooters."
"I don't have to dismantle it to get it into my car. I just fold it up, pop it in the boot and go."
Ross's eFOLDi scooter is his third scooter, and it's his favourite so far. Ross commented, "I've had two other scooters previously, but no other scooter comes close to my eFOLDi. It's so portable, and I don't have to dismantle it to get it into my car. I just fold it up, pop it in the boot and go. I needed something compact for travelling, and the eFOLDi scooter looked perfect for what I needed. The service I receive from the team at eFOLDi is also exceptional. They really try hard to help and support you. I get my scooter serviced with eFOLDi and its very easy. I would certainly recommend eFOLDi to anyone that's considering buying a portable mobility scooter, because it gives you so much freedom. I really couldn't travel so widely or enjoy so much, without it."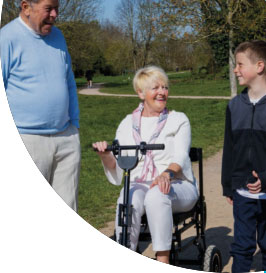 starstarstarstarstar
Rated 4.4 Customer Reviews
See which eFOLDi best
suits your needs...
Arrange a FREE home demonstration
and we'll come to you...