eFOLDi Explorer
The Explorer from eFOLDi has enabled Debbie from Luton to rediscover her sense of freedom and independence
Debbie, 53 from Luton has been an eFOLDi customer for over three years. Debbie requires two knee replacements, so has extremely limited mobility and isn't able to walk unaided. Debbie tells us about how her eFOLDi Explorer has changed her life, giving her freedom and independence.
"I already had a foldable mobility scooter, but it was no longer suitable for my needs. To be lifted it had to be dismantled – I had to remove the seat and the battery. The battery was so heavy, and without any help I could not manage it. Not only was it heavy but it took quite some time to dismantle and fit back together. By the time I'd put it back together again I didn't even want to go out, I'd used so much energy, it was exhausting.
Home demonstration
I had a home demonstration with one of the eFOLDi representatives and he bought along one of the scooters for me to try. He didn't pressure us, there was no hard sell, and we didn't feel rushed into anything. I was really worried about having a salesperson in the house who might be pushy, but he wasn't like that at all. He gave us time to think about it before we ordered. The scooter sells itself, and once you've had the demo you are hooked!
Design-led product
It really doesn't look like a normal mobility product. I didn't want something that made me look disabled. It's such a modern and trendy looking thing! When you are younger, you don't want to look like an old person on a scooter. I am only 53, and a very young 53! A wheelchair wouldn't work for me, as my mother wouldn't be able to push me. Also, I didn't want a powered wheelchair as I don't feel like I am disabled, and the eFOLDi scooter doesn't look like a mobility aid, it actually looks really modern. The eFOLDi is also really robust. It can carry passengers up to 120kg (19 stone) unlike many other lighter, folding scooters.
Lifting my eFOLDi
With my eFOLDi I can easily lift it in and out of my Vauxhall Mokka MPV. It is so light, I can lift it unaided. I am awaiting two knee replacements, and I have a split tendon and sciatica in both legs. Even with all of those issues I have no problems lifting my eFOLDi. Without it, I wouldn't be able to go anywhere. I cannot walk at all now so this really is my lifeline. People actually stop me when we are out shopping and ask me all about it! it takes me hours just to go to the shops as I answer so many questions about it. It is always in the car, I use it everywhere I go.
Flying with my eFOLDi
I have done lots of travelling with my eFOLDi. We have a caravan by the coast which means I can enjoy the surroundings. I flew to Ibiza which was so easy. We booked assistance at the airport, and the eFOLDi was transported in the hold. I was asked to take the battery off and keep it with me in the cabin, which wasn't a problem at all as it is so light and I travelled with it on my lap throughout the journey. When we arrived, I replaced the battery pack and off we went.
In Ibiza, the steps are really high, and there are very few ramps. They are very behind the UK in terms of accessibility. But the way the eFOLDi works made it a lot easier. I folded the scooter and lifted it up the curb like a suitcase, then unfolded it and got straight back on. If I had a heavier scooter which had to be dismantled this wouldn't be possible. It would take so long to take apart and put back together, travelling around would just not be possible.
Ideal for cruising
We also went on a cruise, and my eFOLDi worked so well. The corridors are very narrow, so a larger scooter wouldn't have worked and I would have to keep taking it apart. Also, in the cabin I could fold it up to the size of a suitcase and it would sit in the corner. Most other scooters would take up far too much room in the small cabin.
Train travel made easy
Train travel is easy with my eFOLDi. If I had a more traditional scooter, it would be difficult as it has to be pre-booked with the train company so a ramp can be provided. Also, on each train only one scooter is permitted. With the eFOLDi you can just fold it up, lift it onto the train, and even use it as a seat when all the seats are taken! Or it can easily be stored in the luggage compartment. I don't have to plan ahead, I can just decide when and where to go. All of these things are taken for granted when you don't have a disability.
Impact on my life
My eFOLDi has impacted hugely on my life. It has enabled me to go out so much more than before. Before I had my eFOLDi I never used to go out, my mom and dad had to do all of my shopping for me. Now I have got my freedom and independent back and I can go out whenever and wherever I want. It's like getting new knees! I would describe eFOLDi as a life changer, it creates independence and is extremely easy to use. It makes you wonder why no one thought of this invention years ago!
eFOLDi aftersales service
I've found the aftersales service really good. I have been speaking to Mel, she has responded straight away and has been really helpful. I didn't use my scooter for a period of time during lockdown, so the battery was losing power. She was really helpful and her suggestions were great. She is a real credit to the company. I would 100% recommend eFOLDi to a friend".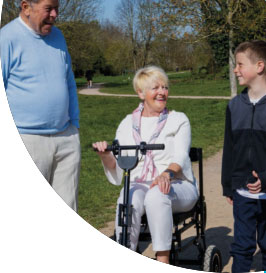 starstarstarstarstar
Rated 4.4 Customer Reviews
See which eFOLDi best
suits your needs...
Arrange a FREE home demonstration
and we'll come to you...