September 2022
Lucky retiree from Mansfield wins folding mobility scooter in national competition run by eFOLDi
Michael Aldridge from Mansfield was 'over the moon' to hear he had won a brand-new folding mobility scooter worth over £2,000, after his wife had entered him into a competition run by eFOLDi, the leading lightweight mobility equipment specialists.
After seeing an advert in a lifestyle magazine, Michael and his wife, Madeline, contacted eFOLDi to enquire about purchasing a new portable, folding mobility scooter. Fairly soon after making contact, the Surrey-based company, announced it was launching a competition for prospective customers to win a brand-new scooter. Madeline, jumped at the chance, and proceeded to enter the competition on her husband's behalf. Within a few weeks of entering, Michael then got a call from a representative at eFOLDi who confirmed he was the lucky winner of a new eFOLDi Lite scooter!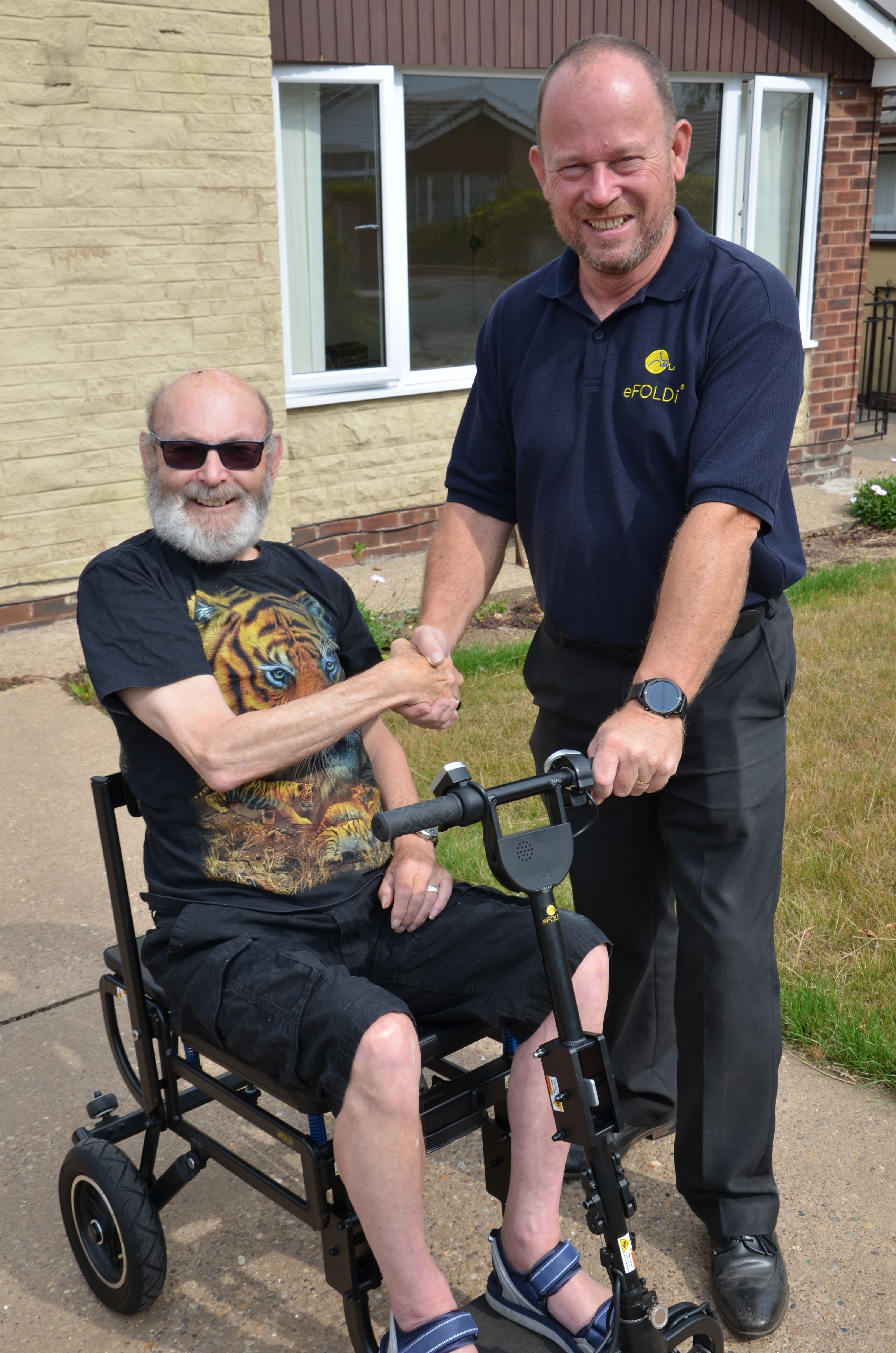 Michael commented, "having this eFOLDi scooter will change my life for sure, because it's going to allow me so much more freedom and will help my wife and I do so much more in terms of travelling and visiting new places. I'm a keen photographer and we love visiting local parks, such as Vicars Water Country Park which is located near us in Clipstone. As you get older and you start to lose your mobility, you can feel a little isolated at times, so it's important to maintain a level of independence and not be too restricted by what you can or can't do."

Michael had previously owned a mobility scooter but had been searching for a more portable solution. His previous scooter was heavy and cumbersome, and it took up quite a bit of space in his car boot, limiting the amount of luggage he could take with him on day trips, short breaks or holidays. Despite having a boot hoist installed, both Michael and his wife, Madeline, often struggled to transfer his old scooter in and out of the car, which made traveling challenging and very stressful.
Michael and his wife are both keen travellers, and they love to explore and experience new places. As Michael has reduced levels of mobility, he wanted a scooter he could travel with on trains, buses, planes and even cruise ships. Michael would also use the scooter for regular trips to the supermarket and for accompanying his wife on country walks in the local area.

Madeline, Michael's wife, noted, "it's going to make such a difference for Michael and I. Now Michael has his new eFOLDi scooter, I expect him to gain more confidence and be able to explore more new places, plus it's going to be so much easier to travel now we have a more portable solution. It's so small and compact, it folds in a matter of seconds and takes up hardly any room in our car boot. It's literally the size of a small cabin-sized suitcase"
Sumi Wang, CEO at eFOLDi, commented, "We are absolutely delighted for Michael and his family. We sincerely hope he enjoys his new Lite scooter and that it helps to make a difference to their lives. Our eFOLDi Lite scooter is one of the world's lightest, most compact folding scooters and it really is the perfect travel companion. We always strive to help people rediscover their freedom and independence, and our ultra-portable mobility products help make travel simple and achievable."
Having successfully scooped Naidex's 'Innovation of the Year' award in 2021, the new 'Lite' folding travel scooter is proving to be extremely popular with end-users. Weighing just 15kg, excluding batteries, the Lite folds and unfolds in just a few seconds, fits easily into most car boots and is simple to store and transport.