March 2022
eFOLDi Strengthens Trade Division With Newly Appointed Business Development Manager.
Surrey-based, eFOLDi is aiming to support growing levels of demand for its lightweight, portable scooters and power chairs with the appointment of a new Business Development Manager to its UKI Sales Team. Robin Benson, joins eFOLDi, with over 20 years' experience in business development, managing teams within the healthcare and medical devices industry.
Tim Ross, National Sales Manager, commented, "We are absolutely thrilled to have Robin Benson join the eFOLDi team. Robin is a professional, self-motivated individual and he possesses a considerable amount of sales experience, selling both capital equipment and consumables into senior clinical procurement teams. Robin is also adept at working closely with healthcare professionals, providing an invaluable support function."
Robin will be responsible for business development in the North of England, Scotland, Northern Ireland and the Republic of Ireland. His primary focus will be to support eFOLDi's established dealer network, delivering product training and providing commercial support to ensure the continued success of our retail partner network.
Recognised as leaders in the design of lightweight, portable scooters and powered wheelchairs, eFOLDi's award-winning products are not only easy to store and transport, they help make travel simple and achievable.
Having successfully scooped Naidex's 'Innovation of the Year' award in 2021, its new 'Lite' folding travel scooter is proving to be extremely popular with mobility retailers in the UK as well as distributors in export markets.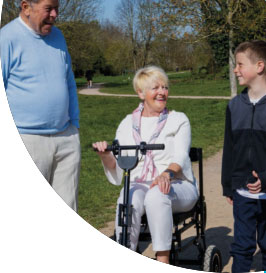 starstarstarstarstar
Rated 4.4 Customer Reviews
See which eFOLDi best
suits your needs...
Arrange a FREE home demonstration
and we'll come to you...